About FNAA
Warning
: preg_match(): Compilation failed: invalid range in character class at offset 4 in
/home/fnaamalg/public_html/wp-content/plugins/lightbox-plus/classes/shd.class.php
on line
1384
Warning
: preg_match(): Compilation failed: invalid range in character class at offset 4 in
/home/fnaamalg/public_html/wp-content/plugins/lightbox-plus/classes/shd.class.php
on line
1384
Warning
: preg_match(): Compilation failed: invalid range in character class at offset 4 in
/home/fnaamalg/public_html/wp-content/plugins/lightbox-plus/classes/shd.class.php
on line
1384
Warning
: preg_match(): Compilation failed: invalid range in character class at offset 4 in
/home/fnaamalg/public_html/wp-content/plugins/lightbox-plus/classes/shd.class.php
on line
1384
Warning
: preg_match(): Compilation failed: invalid range in character class at offset 4 in
/home/fnaamalg/public_html/wp-content/plugins/lightbox-plus/classes/shd.class.php
on line
1384
Warning
: preg_match(): Compilation failed: invalid range in character class at offset 4 in
/home/fnaamalg/public_html/wp-content/plugins/lightbox-plus/classes/shd.class.php
on line
1384
Warning
: preg_match(): Compilation failed: invalid range in character class at offset 4 in
/home/fnaamalg/public_html/wp-content/plugins/lightbox-plus/classes/shd.class.php
on line
1384
Warning
: preg_match(): Compilation failed: invalid range in character class at offset 4 in
/home/fnaamalg/public_html/wp-content/plugins/lightbox-plus/classes/shd.class.php
on line
1384
Warning
: preg_match(): Compilation failed: invalid range in character class at offset 4 in
/home/fnaamalg/public_html/wp-content/plugins/lightbox-plus/classes/shd.class.php
on line
1384
Warning
: preg_match(): Compilation failed: invalid range in character class at offset 4 in
/home/fnaamalg/public_html/wp-content/plugins/lightbox-plus/classes/shd.class.php
on line
1384
Warning
: preg_match(): Compilation failed: invalid range in character class at offset 4 in
/home/fnaamalg/public_html/wp-content/plugins/lightbox-plus/classes/shd.class.php
on line
1384
Warning
: preg_match(): Compilation failed: invalid range in character class at offset 4 in
/home/fnaamalg/public_html/wp-content/plugins/lightbox-plus/classes/shd.class.php
on line
1384
Warning
: preg_match(): Compilation failed: invalid range in character class at offset 4 in
/home/fnaamalg/public_html/wp-content/plugins/lightbox-plus/classes/shd.class.php
on line
1384
Warning
: preg_match(): Compilation failed: invalid range in character class at offset 4 in
/home/fnaamalg/public_html/wp-content/plugins/lightbox-plus/classes/shd.class.php
on line
1384
Warning
: preg_match(): Compilation failed: invalid range in character class at offset 4 in
/home/fnaamalg/public_html/wp-content/plugins/lightbox-plus/classes/shd.class.php
on line
1384
Warning
: preg_match(): Compilation failed: invalid range in character class at offset 4 in
/home/fnaamalg/public_html/wp-content/plugins/lightbox-plus/classes/shd.class.php
on line
1384
Warning
: preg_match(): Compilation failed: invalid range in character class at offset 4 in
/home/fnaamalg/public_html/wp-content/plugins/lightbox-plus/classes/shd.class.php
on line
1384
Warning
: preg_match(): Compilation failed: invalid range in character class at offset 4 in
/home/fnaamalg/public_html/wp-content/plugins/lightbox-plus/classes/shd.class.php
on line
1384
Warning
: preg_match(): Compilation failed: invalid range in character class at offset 4 in
/home/fnaamalg/public_html/wp-content/plugins/lightbox-plus/classes/shd.class.php
on line
1384
Warning
: preg_match(): Compilation failed: invalid range in character class at offset 4 in
/home/fnaamalg/public_html/wp-content/plugins/lightbox-plus/classes/shd.class.php
on line
1384
Warning
: preg_match(): Compilation failed: invalid range in character class at offset 4 in
/home/fnaamalg/public_html/wp-content/plugins/lightbox-plus/classes/shd.class.php
on line
1384
Warning
: preg_match(): Compilation failed: invalid range in character class at offset 4 in
/home/fnaamalg/public_html/wp-content/plugins/lightbox-plus/classes/shd.class.php
on line
1384
Warning
: preg_match(): Compilation failed: invalid range in character class at offset 4 in
/home/fnaamalg/public_html/wp-content/plugins/lightbox-plus/classes/shd.class.php
on line
1384
Warning
: preg_match(): Compilation failed: invalid range in character class at offset 4 in
/home/fnaamalg/public_html/wp-content/plugins/lightbox-plus/classes/shd.class.php
on line
1384
Warning
: preg_match_all(): Compilation failed: invalid range in character class at offset 4 in
/home/fnaamalg/public_html/wp-content/plugins/lightbox-plus/classes/shd.class.php
on line
700
Warning
: Invalid argument supplied for foreach() in
/home/fnaamalg/public_html/wp-content/plugins/lightbox-plus/classes/shd.class.php
on line
707
Warning
: preg_match_all(): Compilation failed: invalid range in character class at offset 4 in
/home/fnaamalg/public_html/wp-content/plugins/lightbox-plus/classes/shd.class.php
on line
700
Warning
: Invalid argument supplied for foreach() in
/home/fnaamalg/public_html/wp-content/plugins/lightbox-plus/classes/shd.class.php
on line
707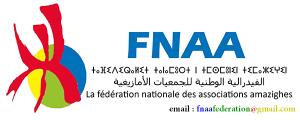 Mission: The National Federation of Amazigh Associations in Morocco is a non-governmental and independent organization, which works for the promotion of Tamazight, defending the linguistic, cultural, political, economical and social rights of Amazigh citizens in Morocco, by their effective in all sectors of public life.
The strategic objectives: The promotion and protection of linguistic and cultural, political, civil, economical and social rights of Moroccan citizens as they are recognized in the Amazigh customary rights and the international charter of human rights and peoples.
The fight against all forms of discrimination against Tamazight, and the implementation of the constitutional provisions for the implementation of the use of the Amazigh language in all sectors of public life as an official language of the state. By working to integrate all components of Amazigh identity in public life, they contribute to the promotion of Amazigh language and culture. Active participation in the development of an innovative, modern, democratic and secular civil society Defend the rights of Moroccan populations to legitimately dispose from their ancestral lands.
Fight against racism and intolerance among the people of the world. Introduce full and effective equality between the sexes in a code of modern and innovative family. Promote the development of youth and children, and the protection of their rights, ensuring the qualification of their capacity and their participation in public life.
Lobbying for the appropriation of local laws and international rights laws.
Organizational and Institutional Building Strategy.
Intervention strategy: The implementation of a pleading policy towards all political, social and state actors, for the recognition of linguistic and cultural rights of the Amazigh, in all sectors of public life. Publication of parallel reports, protest memoranda, open letters, petitions, press release and initiate judicial proceedings… Lobbying for the appropriation of resources and legislative tools at the international instances.
Organization Chart: The General Congress: supreme authority is held every 3 years The Federal Council: composed of 44 members elected by universal suffrage by the Congress. The federal office: composed of 9 members elected by the Federal Council.
Member association:
105 Amazigh associations of different regions of Morocco are founding members of the Federation:
Local associations: 79
Regional associations: 21
National associations: 2
Coordinating networks: 3