The National Federation of Amazigh Associations (FNAA) set a group of lawyers to defend the detainees of the Rif movement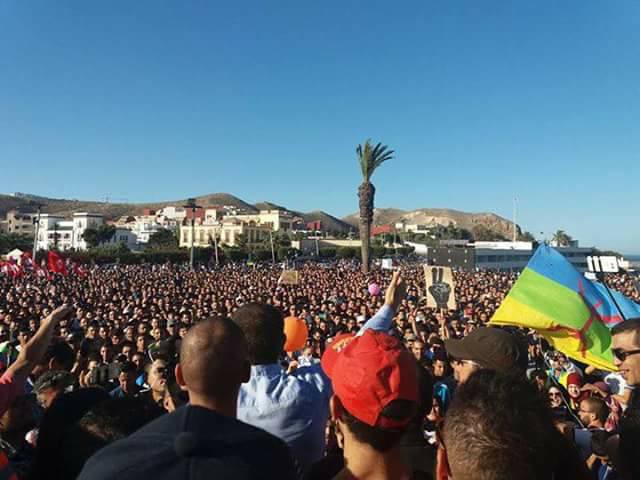 The National Federation of Amazigh Associations (FNAA) is following with great attention the uprisings that continue to shake the Rif region for seven months following the tragic death of the fisherman Mohcine Fikri in El Hoceima town. The dramatic consequences that result from violent and unjustly punitive interventions against the Rif population. The abusive arrests of dozens of militants of the Rif movement and the condemnation of many peaceful demonstrators through unfair judgments.
We note with great interest the spread of uprising solidarity, which extends to several regions of Morocco, which continue to manifest massively to denounce the savage repression carried out by police forces against the peaceful demonstrations of our Amazigh brothers and sisters in the Rif region. The hundreds of thousands of our compatriots braving the endemic "Hogra" and contempt, which characterize the security approach of the Moroccan authorities towards the Moroccan people and the keep up of military zone status on the region since the time of the Franco-Spanish colonization against any logic.
Considering the government's unfounded and false statements about the demonstrators and the attempts of demagogic misleading manipulations by certain relays of power that seek to sow doubt and division among the Moroccan people.
Considering the extent of these events on the international media scene and the mass of solidarity demonstrations in Morocco and in several foreign countries.
Considering the commitment of the National Federation of Amazigh Associations, since its creation, to defend citizens fundamental rights and their linguistic cultural, identity and social rights,
The National Federation of Amazigh Associations wishes to express its unwavering support to the Rif uprising movement by saluting all citizens who are fighting peacefully for the establishment of a real state of rights in Morocco
The National Federation of Amazigh Associations (FNAA) informs national and international public opinion that a group of lawyers is constituted under the direction of masters, Ahmed Arehmouch, Lahbib Ben Chikh (Rabat) and M'hamed Ould Elhaj (El Hoceima), to defend the Rif movement detainees and to ensure a fair trial against any misappropriation of any kind.
We inform all FNAA association members, Amazigh activists and general public that the next meeting of the FNAA Federal Board will be held in El Hoceima.
Rabat June 18th 2017
For the Executive Committee, Ahmed Arehmouch Coordinator